From its stormtrooper face to its insane, two-tone rear and boomerang-shaped taillights, every inch of the Kia Soul EV's exterior has been styled to be divisive. Think Nissan Juke – a generally safe and staid company building a car with crazy styling, then underpinning it with sensible powertrains. In the Juke's case, it was a massive success. Could the Soul EV enjoy the same treatment?
The first Soul EV (based on the second-generation car) rode on the coattails of petrol and diesel siblings, but in a further divisive move Kia won't offer combustion engines for the European market. Instead, the UK gets just one powertrain – a 201bhp electric motor paired to a 64kWh battery inherited from its sister cars, the Hyundai Kona Electric and Kia e-Niro.
So, strange styling, good mechanicals?
It certainly seems that way from the numbers. The single electric motor outputs 201bhp and 291lb ft to the front wheels, making for a 0-62mph sprint of 7.9 seconds and a top speed of 103mph. Kia claims a range of 280 miles on a full charge.
These numbers all compare very favourably with similarly-priced EV rivals – a Nissan Leaf is slightly faster, but offers a maximum of 239 miles of range, while a Tesla Model 3 tops out at 254 miles – or demands £47,000 for the Long Range model.
In terms of charging, less than an hour at a 100kW charger will see the Soul EV's battery replenished to 80 per cent. Using a typical 7.2kW home charger, you're looking at between nine and ten hours for a full charge.
How do those numbers translate to the road? Rather well, as it happens. In typical EV fashion, performance starts out incredibly strong, with instant torque available from a standstill. Put your foot straight down on the floor and the Soul EV will chirp its tyres, but even acting more sensibly you'll certainly be one of the quickest away from the lights.
Kia's engineered in a minute delay to the accelerator, which gives it less of a hair trigger and actually makes it more relaxing to drive in stop-start conditions. It's also introduced automatic regenerative braking, which uses radar to monitor the traffic ahead and adjust itself so that on lifting off, you coast right up to obstructions before stopping, instead of requiring braking or stopping short. Thankfully, you can override this easily using the paddles on the steering wheel to adjust the level of braking manually. You can even use them to regen yourself to a complete halt, but it's not as easy to modulate as the Leaf's e-Pedal mode.
Acceleration remains very strong up to around 50mph, but it doesn't tail off so suddenly that motorways become a chore. Even at the legal limit, it feels as though there's plenty of power in reserve – though it's worth bearing in mind that this is murder on the battery, and will quickly see that 280-mile range drop significantly.
Shaped like a brick, does it handle like one?
Thankfully, no – the Soul EV may not be a hot hatch but it's not a complete slug either.
It's slightly lighter than its e-Niro sister car, and that's mirrored in accurate, easy steering and a general willingness to change direction without too much fuss.
It rides better than the e-Niro, too, though there's a hard edge on lumpy roads that rivals such as the Leaf don't really suffer from. Still, it's relaxed enough elsewhere, and there's less body lean than you'd expect from something this tall – aided by the low-down weight of that battery pack.
There are four driving modes to cycle through – Normal, Sport, Eco and Eco+. Sticking to Normal is the best bet – Sport brings a cloying sense of artificial weight to the steering and twitchy throttle response, while the two Eco modes dull the car's responses down.
Does the madness continue inside?
Sadly, no – and that's one of our biggest complaints. The first- and second-gen Souls were packed with quirky details. These new models do without some of our favourite mad features, such as light-up speaker grilles, in favour of an interior that really does look like it's been pulled straight out of any other Kia. The few interesting textures – such as the scaly items on the door cards – are hard, unyielding plastic, and the switchgear lacks any reassuring weight.
It's a sea of black plastic, devoid of colour or charm. Still, build quality is high and equipment is generous – Soul EVs come to the UK in a single, highly-equipped trim level which gets a 10.25-inch infotainment touchscreen (with Apple CarPlay and Android Auto), leather upholstery, heated front seats and steering wheel, LED lights all-round, a head-up display, a reversing camera, wireless phone charging and a 10-speaker Harman Kardon sound system.
That infotainment screen is pretty good, too – high quality, responsive and with a clear interface. It's irritating, though, that when using Apple CarPlay or Android Auto, the interface won't scale to fill the whole screen – you're left with a split-screen arrangement that's ugly and unnecessary.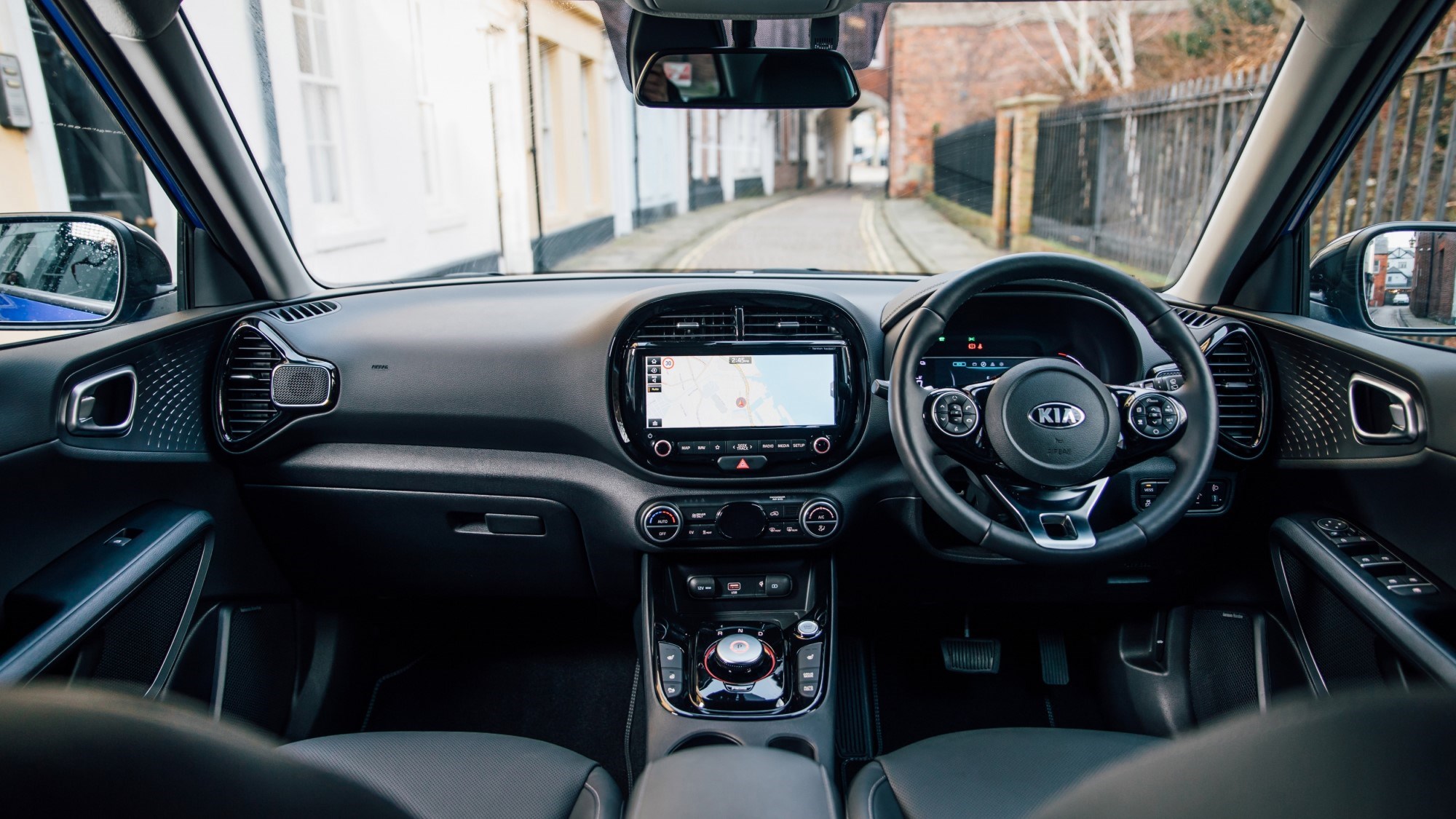 The thing is, what's the point in having a distinctive car on the outside if you spend all of your time in its bland interior? You might as well go for the less divisive e-Niro instead.
You'll enjoy greater practicality with the e-Niro, too. A high roofline means rear passenger space in the Soul EV isn't too bad – but its 315-litre boot is poor by any standards, especially compared with the 451 litres of its sister car.
Is it expensive?
On list price, the Soul EV is marginally cheaper than the e-Niro – but it's pricier on finance. A £5k deposit on a three-year, 10k per annum PCP deal will set you back over £500 a month, which is a lot to ask. A similarly specced e-Niro will cost less than £450 a month under the same terms.
More worryingly, Nissan wants less than £300 a month for a well-equipped Leaf in Tekna grade. In short, you'll really need to like the way the Soul EV looks before that sort of monthly outlay seems particularly attractive.
Verdict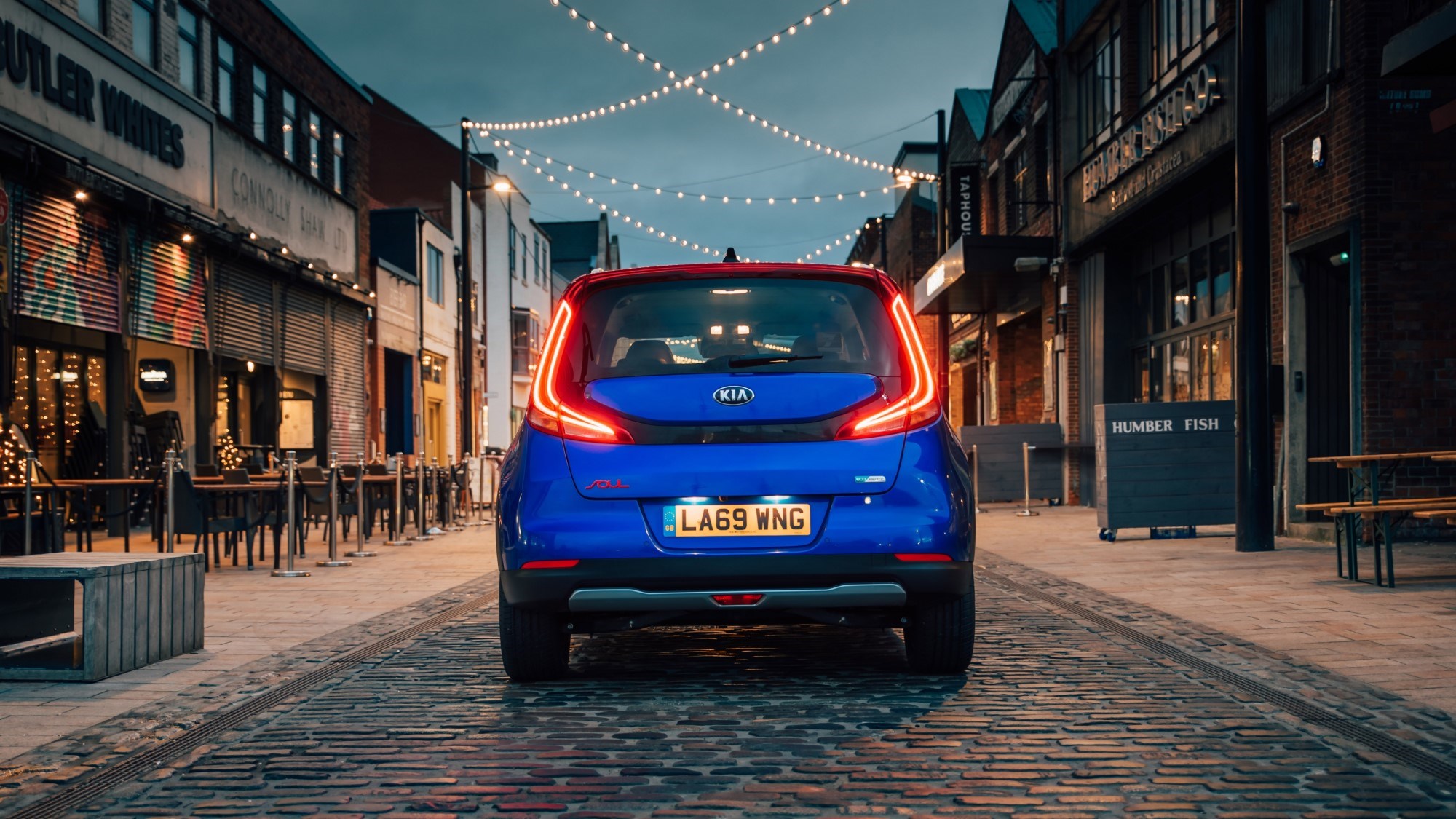 Love-them-or-hate-them looks aside, the Soul EV successfully pulls off the trick of offering an exceptionally good electric range at a reasonable (cash) price. A reliable 250+ miles (some owners of the e-Niro report up to 300 miles when taking it carefully) on a single charge is nothing to sniff at – in fact, it's enough for the majority of drivers to use as their only car.
The lack of practicality and interior flair are disappointing, though, and if you're fine not standing out from the crowd there's nothing the Soul EV offers that the e-Niro doesn't for less money.