How do you feel about this car? Because it split the CAR office down the middle on its reveal in 2018. To some of us Porsche's modern-day homage to its 1970s 935 endurance racer is a droolworthy dream car, a time-bending meld of classic-era spirit and cutting-edge tech. To others it's an empty pastiche, a 911 GT2 RS in Saturday Night Fever fancy dress, wide lapels, flares and all. I'm somewhere in the middle. Or at least, I was.
At this freeze-frame moment, I couldn't care either way, because I've just pushed the throttle all the way to the stop for the first time and I'm too busy concentrating – and grinning – to debate. This car feels amazing.  
77 to be built, all sold out
While we're on pause, a quick rundown of the essentials: 77 new 935s are being built, and despite an asking price in excess of €700,000 (plus tax), all have been spoken for. Underneath the bodywork, a tribute to 1978's famous whale-tail long-bodied 935 nicknamed 'Moby Dick', it's based on the 991 GT2 RS. Or, more specifically, the track-special GT2 RS Clubsport – the 935 isn't road-legal. It's intended for private track sessions and specialised Porsche club races. Or one heck of a shock for the regulars at a public trackday.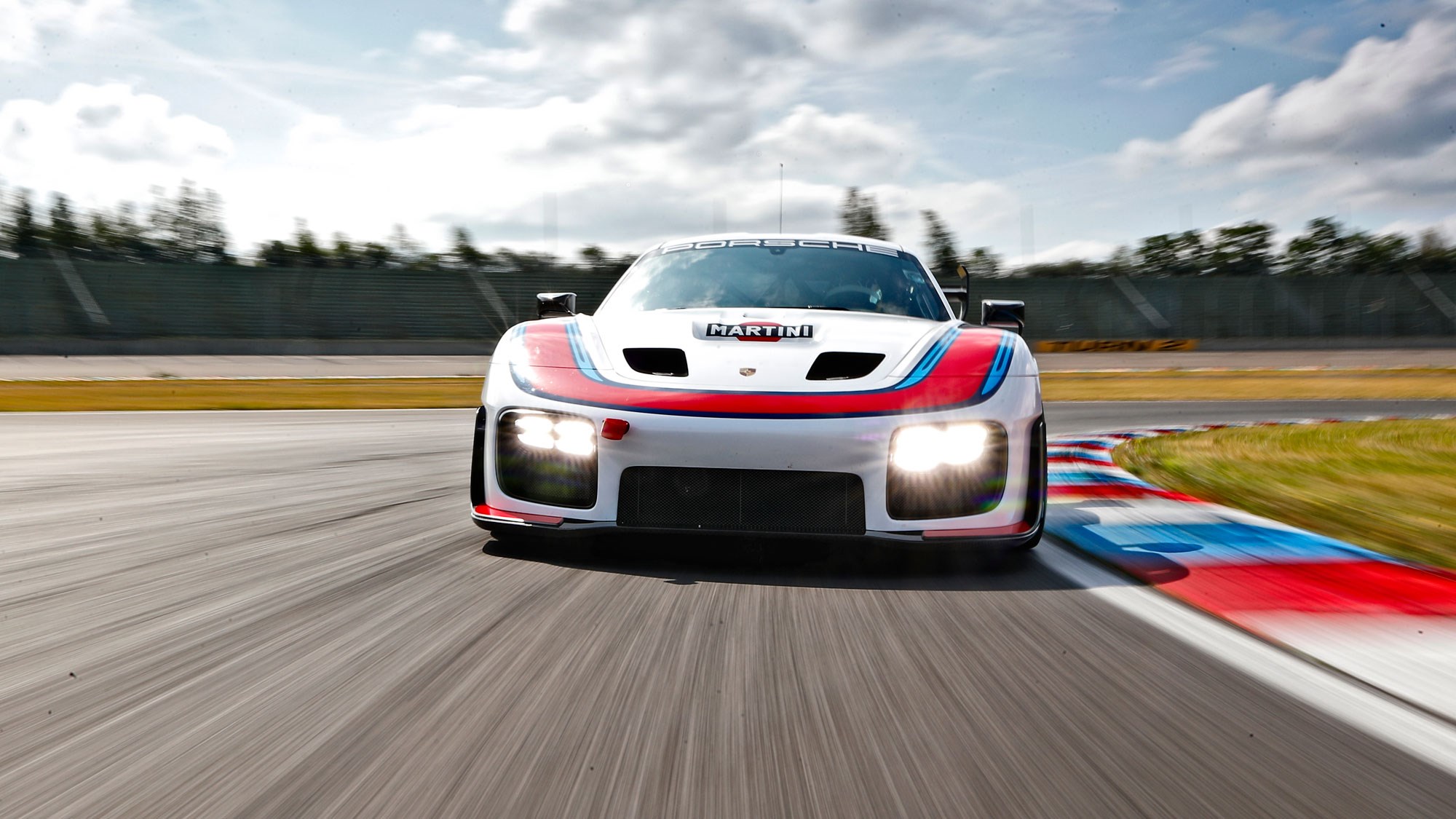 That, and a sort of high-speed objet d'art. Pacing around the 935 (and at 4.9m, it's quite a walk) you begin to appreciate just how many captivating details it packs in. The aero-disc wheels, modelled on the 1978 car's, as much for extracting hot air from the brakes as reducing drag; the near-two-metre-wide rear wing, with LED-lit endplates pinched from the 919 LMP1 car; the exhausts like Philippe Starck-designed rocket boosters (modelled on those of the '60s 908 racer, and collapsible in the event of a crash).
The view from the cockpit
Inside, however, it's all business. There are remnants of the 911's production interior, but really, this is pure race car cockpit: where the passenger seat would normally be there's a mass of complicated-looking electronics equipment, and you're surrounded by beefy rollcage tubes, nets to contain errant limbs in the event of a Big One, and a roof hatch to get you out in the aftermath. Let's not think about that. All business, that is, apart from two more retro flourishes: a balsa-wood top for the gear selector lever (à la 917) and a brace of analogue dials either side of the digital dash readout, including a boost gauge that looks like it could have been beamed straight from '77.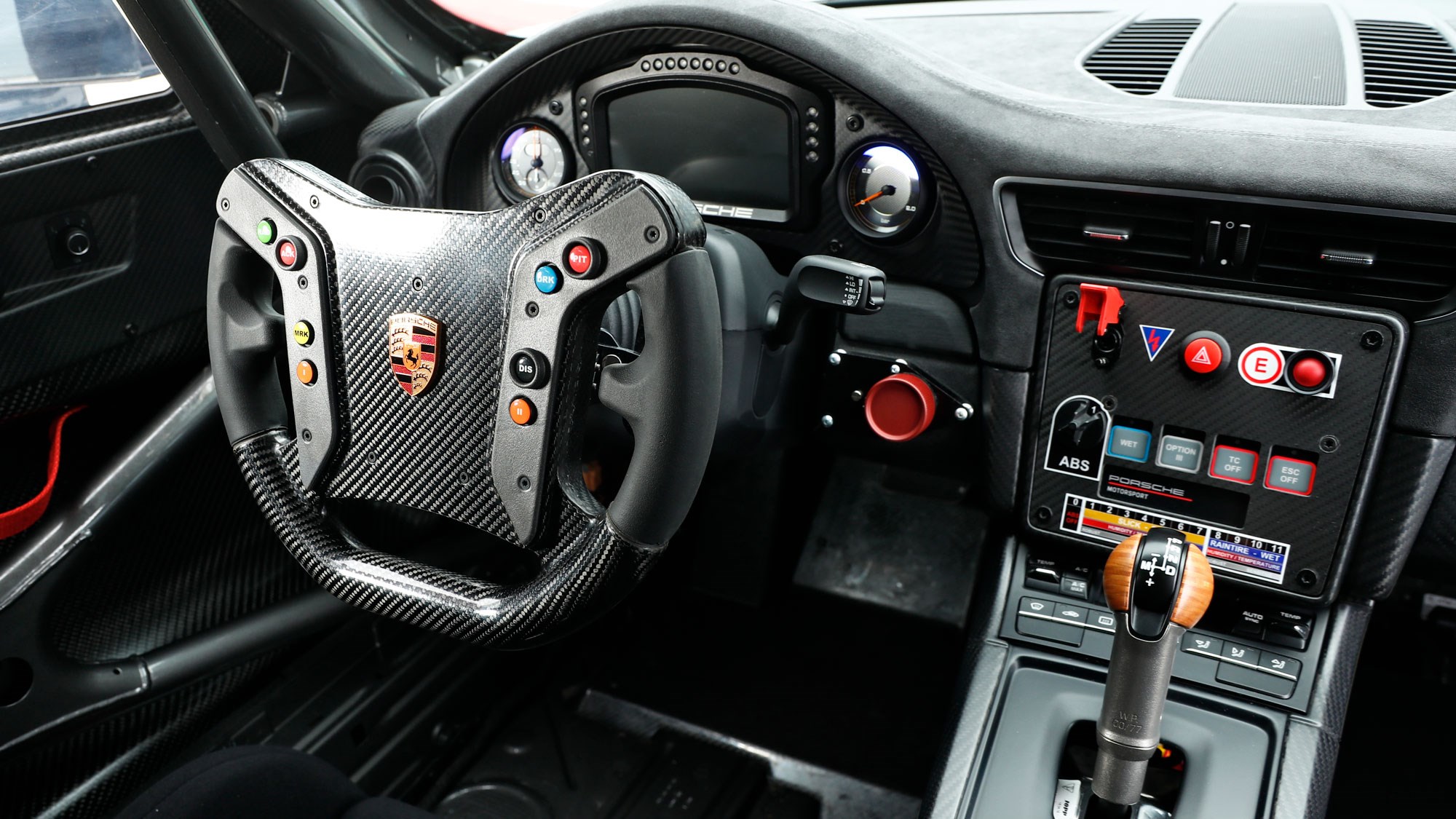 Starting it is simple: it's a regular key ignition. The pitbox fills with a gruff flat-six burr, resonant enough to rattle glasses of water in the garage next door. Pulling away is just as easy: it's a production PDK 'box, so you just put the lever in D, nudge it to the left for manual mode and you're good to go. And the 935 goes like billy-o. Power from the twin-turbo 3.8 is rated as identical to the road-going GT2 RS, at 691bhp, and if that number looks big on paper it feels all the more so from the driver's seat.
How does it feel at full tilt?
Press play: back at that first, throttle-meets-stop moment. When I watch the GoPro footage back later I can see my face behind the visor involuntarily crease into a giant grin as the full fury of the 935's acceleration takes hold. It feels absurdly fast, like a thrill ride at a theme park, only better because it's one you can steer, and brake.
There's no servo assistance for the latter, so the pedal needs a leg-press shove but there's no doubting the brakes' effectiveness, and with ABS there's the comforting knowledge that you can hit them as hard as you like without fear of locking up.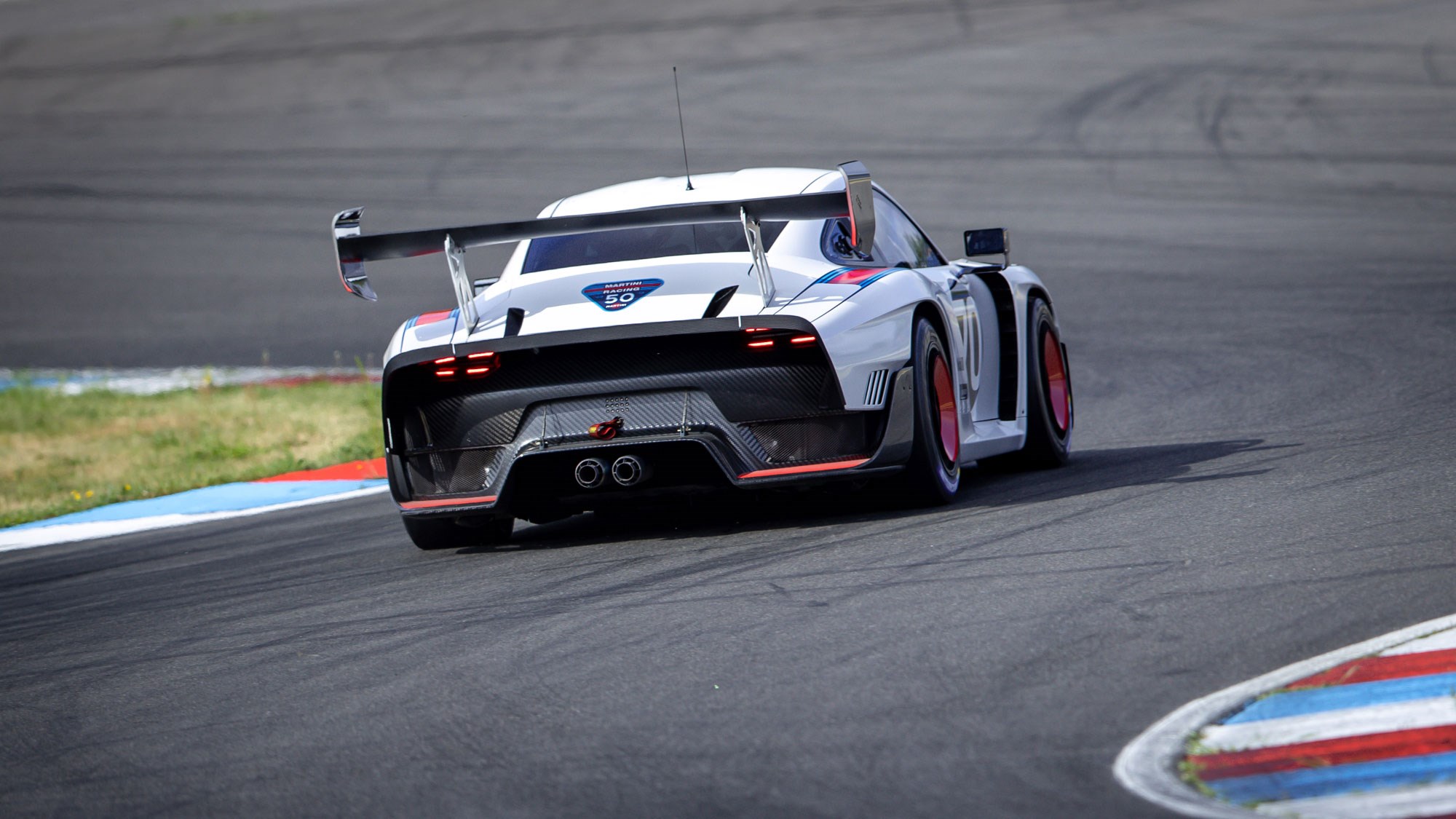 Down through the gears on the carbon shift paddles (the PDK 'box is game – fractionally slower than a pure racing transmission perhaps, but smoother and less violent) and point the nose into one of the Lausitzring circuit's long, bumpy parabolic curves. There's understeer; at first, an encouraging thing – you're reassured the car's stable, it's staying put – but it intensifies as the corner winds on, to the point where you exit not with a heroic dab of oppo but actually with a touch of positive lock. That's partly because today the car's been set up conservatively, partly because underneath the skin it's a 911 Turbo, and to an extent that's what 911 Turbos do if you're not positive with them. Brake deeper into the corners and get on the power early to keep things neutral and the 935 comes alive.
Its pulverising cornering speed is as impressive as its rocketsled acceleration, but even more so is its approachability. Graduated traction control and stability control helps prevent all that power corrupting absolutely, and as you gain confidence and reduce their intervention it becomes clear that this is a fundamentally friendly, well-sorted car that's on your side. All too soon the session's over but the thought of having a full day to chip away at its limits and my own – it's almost too good to imagine.
How does it feel compared to the GT2 RS?
A cheeky postscript: we drove the 935 back-to-back with the 911 GT2 RS Clubsport – essentially the very same car, without the evening gown bodywork but with negligible difference in weight and downforce (and a comparative snip at £357k). Maybe it's the placebo effect of driving it second, once dialled in to its traits, but the 911 actually felt slightly more positive, more nimble than the 935.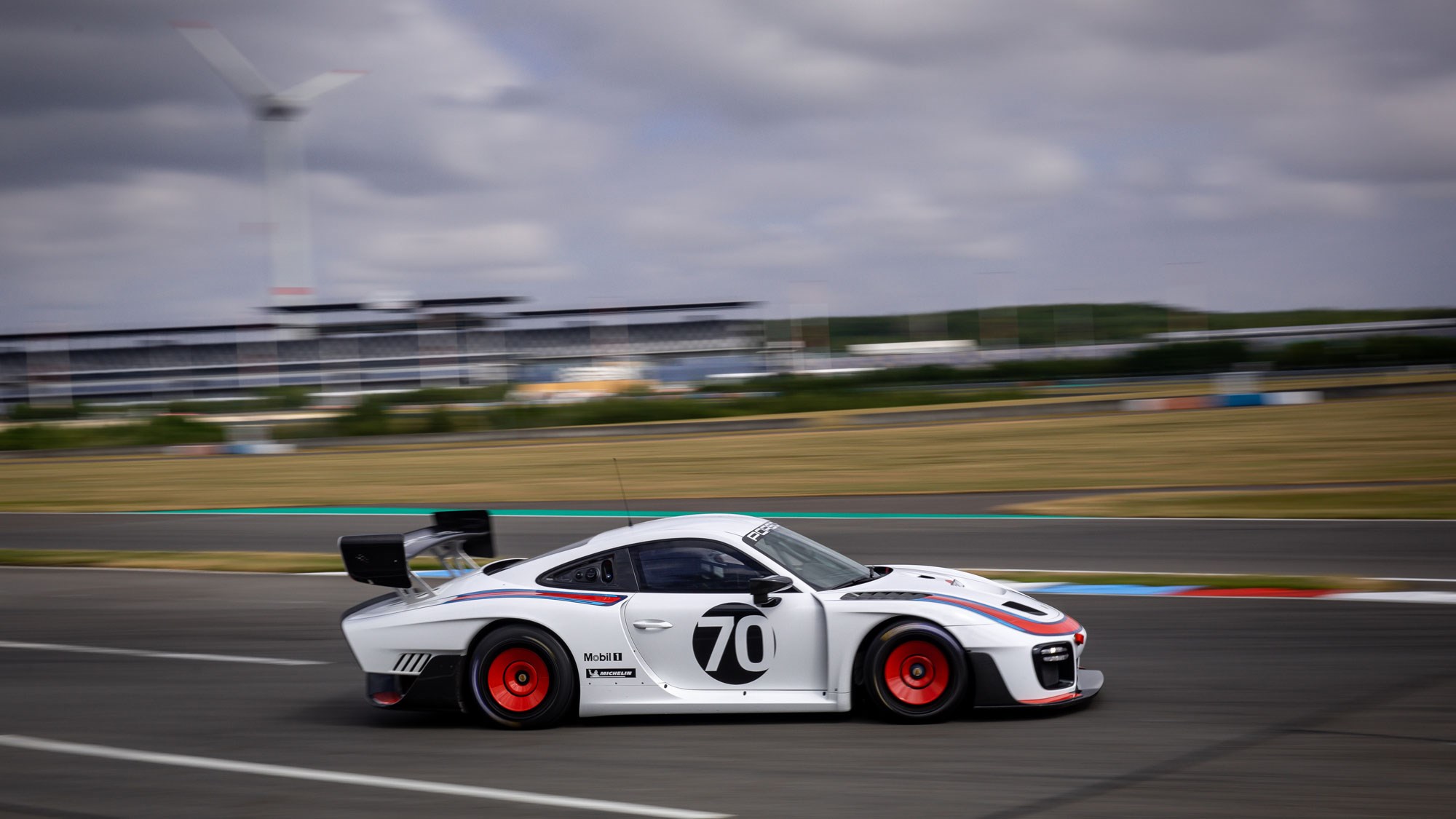 Verdict
My imaginary lottery-win garage space would go to the GT2 Clubsport (were it not sold out already) but as an object to covet and to admire, as a thing, the 935 is very special. Whatever your initial standpoint, to drive it is to fall under its spell: it's bewitchingly brilliant.