The Toyota C-HR signalled Toyota's… well, not rebirth, as such, but certainly the company's renewed focus on making regular cars that were more than just appliances. Since then, it's released the much-improved Corolla and RAV4 as well as shown off its latest Yaris in both standard and GR forms. It's fair to say that a little of the sparkle from the GT86 and Supra is making its way into more ordinary Toyotas nowadays.
That approach seems to be working. The C-HR has proven a sales hit in Europe (including the UK), tapping into a lucrative market for stylish coupe-crossovers at just the right time. And with an efficient hybrid powertrain, it makes all the right green noises, too.
Such is its success that for its first update in 2019, Toyota chose not to make any huge changes. The C-HR has just been tweaked, largely based on customer feedback.
So what's actually changed?
On the outside, it's business as usual as far as facelifts go. New LED lights front and rear (including fashionable scrolling indicators), a bigger grille/bumper situation up front, some new colours and contrasting roof options. Simple.
Best hybrids and plug-ins 2020
The majority of the car's original wackiness remains, such as the sloping roofline, integrated rear door handles and sporty silhouette, but it's a little cleaner, a little better resolved, and that's always appealing.
Inside, new materials adorn the top of the dash with that vivid blue streak across it the reserve of higher-spec Dynamic models. Everything else is grey and black, but there are plenty of curves, textures and surfaces to keep things interesting. The biggest news inside is an updated media system that still trails the class best, but it now comes with Apple CarPlay and Android Auto so you don't have to be frustrated every time you want to enter something in the sat-nav.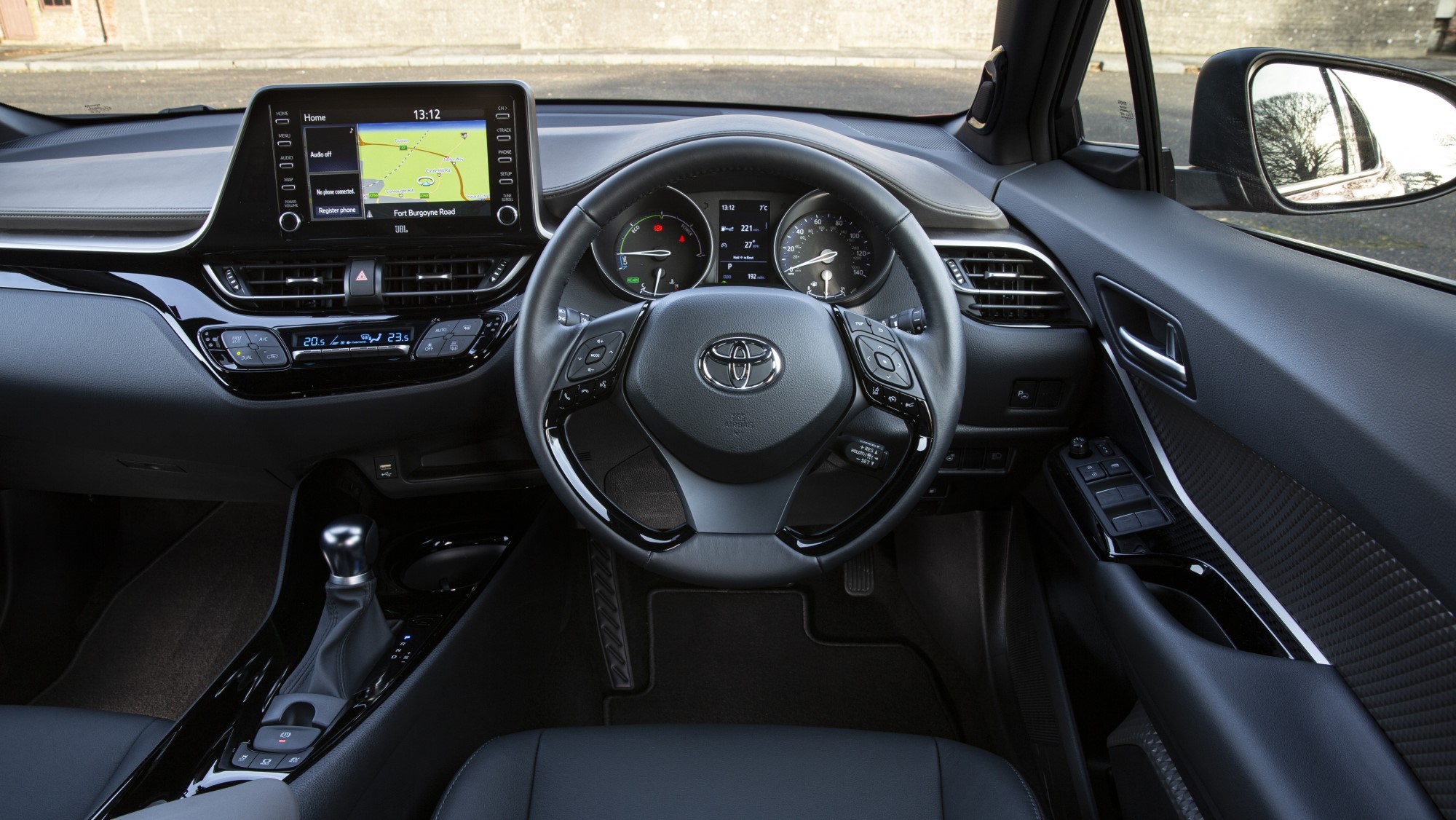 Most importantly, though, is the addition of a 2.0-litre hybrid powertrain with no less than 182bhp, quite the jump from the 120bhp 1.8 that's still available (and still expected to be the big seller). As a result, and showing Toyota's commitment to hybrid power, the 1.2-litre turbo has been dropped from the line-up – at least in the UK.
Trims remain the same with Icon, Design, Dynamic and Excel, but there's a new Orange Edition sitting at the top of the line-up in limited numbers. No prizes for guessing why it's called that, but all come well-specced.
Is the 2.0-litre Hybrid the one to go for?
Yes – and not just because Toyota calls it Dynamic Force. And while the 1.8 will suit the vast majority of C-HR buyers, the 2.0-litre unit makes full use of the car's excellent chassis, and also reduces the amount you hear the dull moan of the engine as you get up to speed.
In fact, the refinement is rather impressive, and the combination of hybrid engine/CVT transmission is one of the best yet in terms of noise and responsiveness. It's not loud, it's not overly intrusive and it's only noticeable if you really floor it. Again, most won't, and this version builds speed with pleasing pace that doesn't leave you hanging.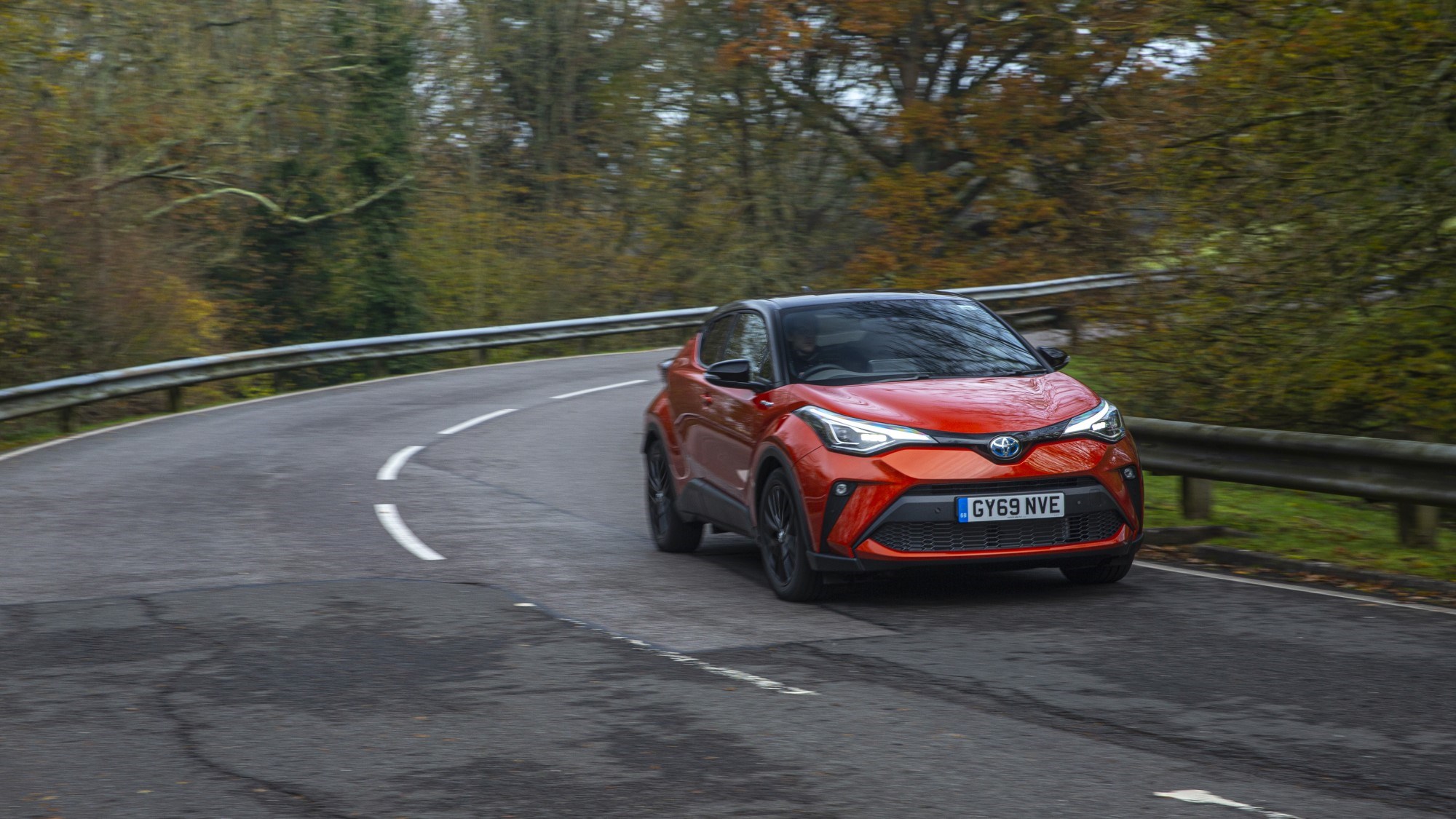 If you're the type of driver to constantly drive with a heavier right foot, the C-HR probably isn't on your list anyway. In the context of older C-HR models, it's a welcome addition.
Is it that good to drive?
The C-HR impressed us when it first launched, and the facelifted car is no different. It feels far more agile than you'd expect a sensible hybrid Toyota to be (but most of its cars are driving like this of late), the steering isn't too light and it goes where you point it. The ride is pretty well-sorted too, making it a nice compromise between comfortable and controlled.
Its agility is really aided by the new engine, noticeably much keener to get you out of a corner than the 1.8. You can have a bit of a giggle in the C-HR – it doesn't feel overwhelmed by tight bends, the body control remaining very composed at all times.
Of more importance to most buyers is that it's a smooth and refined machine around town. In fact, it'll potter about in silence far more than you'd expect it to – with a little monitor in the dials telling you what percentage of the journey you've travelled in EV mode alone. If you're sensible, it's possible to get towards 80% and manage over 50mpg without even trying.
It's not all great news – that rakish shape does not translate to good visibility. Dark, small windows, dark headlining and chunky pillars mean you can be caught out on occasion when making certain manoeuvres.
Has much changed inside?
Not especially, but that's not a huge problem. The jazzy colours are now the reserve of higher-spec Dynamic models, but the trim remains interesting and eye-catching on the rest of the range, if a little dark throughout.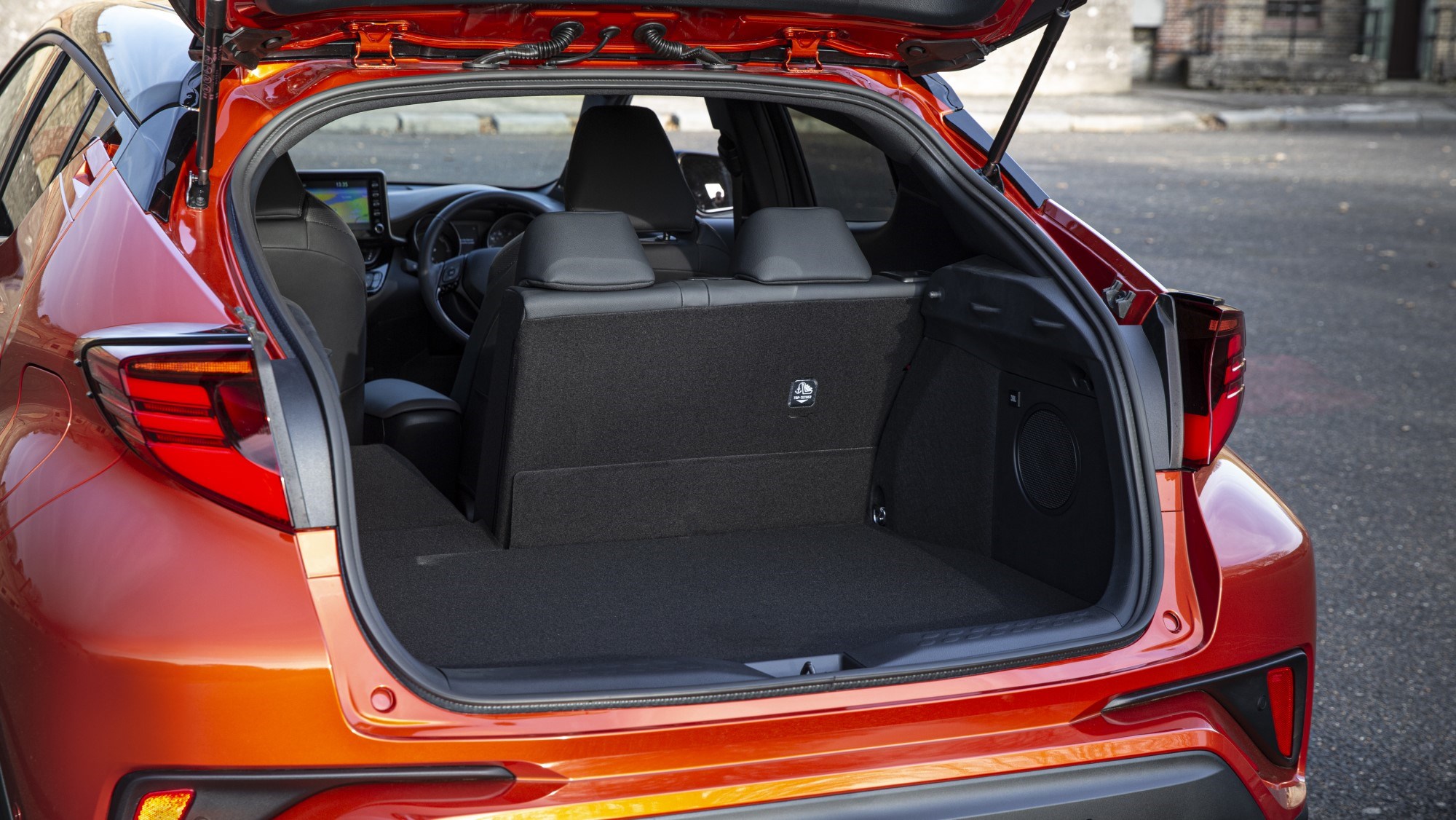 There's actually a decent amount of space in the back, but the doors aren't huge, the windows are small and it can feel a little claustrophobic. Up front it's all very cocooning which is quite nice for something SUV-ish, with very comfy seats.
Finally, the media system has been upgraded, but most are likely to make use of newly-included Apple CarPlay and Android Auto anyway.
Verdict
The C-HR remains an interesting alternative to all the usual suspects in the growing crossover segment. It looks good, has an interesting interior that's well-made and packed with kit (even entry-level Icon models), it drives very well and is cheap to run. It's not the go-to for practicality, but the addition of key equipment and a more powerful hybrid motor make it far more appealing. This Orange Edition is only available in limited numbers from launch, though, plus it's not cheap at over £32k… stick to a mid-range model and you'll be just fine.